Patrick served a good portion of his mission in Guayaquil, Ecuador so while we knew it might not be the most picturesque stop on our trip, we needed to spend a couple of days there.
We were so lucky to be able to stay with a good friend of Patrick's from his Mission. Dario and his family, are some of the sweetest people I have ever met.
And we may or may not have tried to smuggle their daughter home with us this afternoon :)
Our first evening in Guayaquil, we went on a tour of the city, stopping at to the Parque de Iguanas,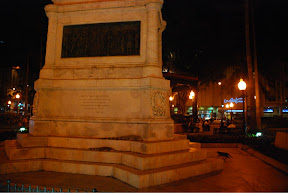 the malecon (river boardwalk) and climbing 444 steps to a chapel at the top of the city in a neighborhood called Las Penas.
What a cool place.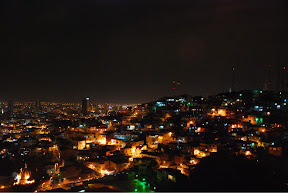 On Saturday, we took a trip to Salinas, a beach town about 2hrs from Guayaquil.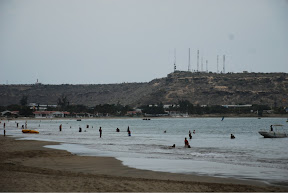 It was definitely an experience. We were constantly being hassled by food/craft vendors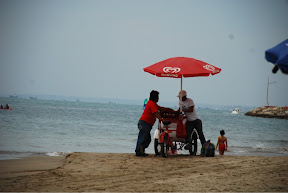 while lounging in our rented cabana (you can't escape them! We didn't even want the cabana and yet somehow ended up paying $7 for the honor).
At some point we were approached by a man offering to take us whale watching. He pointed out his boat, said we could hop in and go out to see the whales. Since it was pretty cheap, and whale season we figured oh what the heck let's do it. 1.5 hrs, three boats and two captains later, we were finally on our way. We saw several whales come up for air, and one flipped his tail out of the water, but unfortunately we didn't get to see any breach. Still a pretty awesome experience, and we had the benefit of being in a country where you can get super close to the whales without breaking any laws :)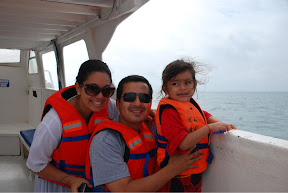 After our whale watching tour, we wanted to grab a bite to eat. When we pulled up to the group of restaurants, we were immediately accosted by the waitstaff of several establishments, all encouraging us to come to their restaurants. That's been fairly standard on this trip, so it wasn't strange, the strange part came when we tried to sit down. They were literally fighting for us to pick a place to eat! I felt like wherever we chose, we were making somebody furious! Luckily once we chose a place, they left us alone. Delicious seafood after a day at the beach is always a good idea.
Today, our last day, we went to Church at the building that Patrick had gone to when he lived in Guayaquil.
He wasn't sure if he would remember anyone, or even if anyone he knew would still be there, so he was thrilled to see 5 of the 6 converts he had baptized all still in the same ward!
It was such an incredible experience to see how happy they were to see him and vice versa.
They all even still had their Book of Mormon where he had written his testimony! And one even had his picture! I loved meeting everyone as well, and only wish I spoke Spanish so that I could have heard all the wonderful things they had to say about Elder Larsen.
After church, we took a tour of the areas he lived. Check out his apartment!!
He says it looks pretty much the same. Can you believe he lived there? I think I would have died.
And look at the dirt roads!
In the largest city in the country, there are still dirt roads? Apparently 90% of the roads were dirt when he was there 8 years ago, but the city has done a lot to improve things and now most streets are paved, except in the most dangerous areas.
Although there have been vast improvements, that's still one rough town. I can't imagine living there. I think the thing that has been the strangest to
me is how mixed the living conditions are. There are nice apartments next to little shacks, next to huge pits full of trash. And everywhere is under construction/for sale. I don't think I saw more than 10% of the buildings that didn't have some sort of incomplete portion. And yet, people are still living in the houses!
And with that, we're finally at the end of the trip! I can't believe it went by so quickly! And yet, I'm definitely ready to head home. I thought I could handle months of travel, but it turns out, I am not the best long-term budget traveler. Big surprise, I'm sure :) but I am so glad we took this trip. I know it's one we will remember forever.
Next stop, India! I am so excited to meet up with Amanda and Lex at Rising Star!!